Speaker Resources
2024 FAcilities Conference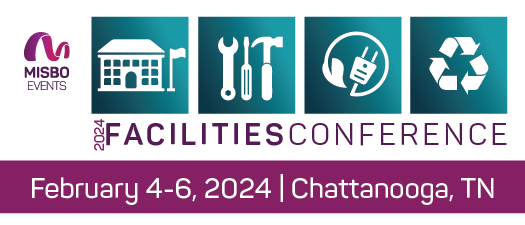 ---
Information for Speakers
Table of Contents
Session Timing
PowerPoint Template
Submit Your Presentation Slides
Promotional Toolkit
Event Information
General Information
Hotel Information
Shipping to the Hotel
---
Your Session
Session Timing and Notes
All sessions are scheduled for 1 hour. Below is a guideline for your session, but feel free to change up the flow if needed.
10 minutes prior to session: Start setting up; prepare and test technology with MISBO staff
40-45 minutes: Your presentation
5-10 minutes: Discussion and Q&A

Please prepare a few discussion questions for the audience just in case

We encourage you to end a few minutes early so attendees have extra time to ask questions, discuss with their colleagues, or speak with sponsors before the next session
Download any videos for your presentation ahead of time, rather than using the internet. It is best not to rely on internet during your presentation.
Powerpoint Template

Download here. Please use this branded template for your slides.
*If you have any trouble using the template, email Lisa at lisaflowers@misbo.com.
Submit Your Presentation Slides
Submit your slides here. Please submit slides at least 3 days prior to your presentation. We need this as backup in case your technology decides not to work! And slides will be shared with attendees after the event.
Event Information
General Information
Attendee lists will be shared with all speakers digitally as the event approaches
Promotional Toolkit
Download here. Help spread the word for a successful conference! Includes suggested social media posts, event graphics, and more.
Hotel Information
Speakers are responsible for their own hotel and travel arrangements.
Westin Chattanooga
801 Pine Street
Chattanooga, TN 37402
Discounted Rate: $169 per night
Cutoff date: January 12th
Check in: 4:00 pm
Check out: 12:00 pm
Cancellation policy: 48 hours prior to arrival
Rooms reserved within the hotel block include:
Shipping address: 801 Pine Street, Chattanooga, TN 37402
The following information must be included on all packages to ensure proper delivery:
Send the package to the attention of the guest and "MISBO Conference"
Package will be stored at no charge 2 - 3 days prior to guest arrival date
If any packages are over 50 -60 pounds, please contact the hotel directly
Date of Function (2/4/2024)
To ship from the hotel:
---
Thank you!
We look forward to having you there! Please reach out with any questions.
MISBO Events Contacts
Dianne Sagaas
Director of Professional Development
MISBO
(404)921-3812
Director of Professional Development
Lisa Flowers
Events Manager
MISBO
(404)921-3810