DIGITAL EDUCATIONAL RESOURCES
Program Overview
The Digital Educational Resources Updates
The MISBO Digital Educational Resources portal is now open for ordering! Pricing has been updated for the 2022-23 school year for all MISBO partners that have provided pricing. We continue to add pricing, products, and new partners as they become available!

NOTE: Please note that Oxford, CAIO, and Granger's World of Poetry pricing for the new year has not been received yet. These products will be updated as soon as MISBO receives the new pricing. 
The MISBO Digital Educational Resources Portal provides an easy and convenient way to purchase and manage your digital educational subscriptions and databases, all while saving you money.
Manage all your subscriptions through a single renewal process and one invoice
Discounted pricing for MISBO members only!
Delayed invoicing
New to Portal 2.0? watch the recorded tutorial on how to place your order!
All Digital Educational Resources questions should be directed to:
Susan Kimmel, Assistant Director of the Purchasing Consortium at susankimmel@misbo.com
Announcing: MISBO Digital Educational resources coffee talk!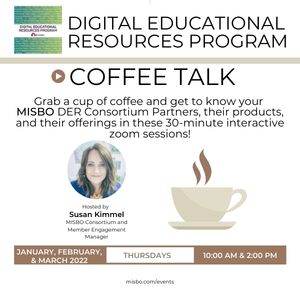 We know it's that time of year when you are looking at your digital resources and determining what to offer your students in the next school year. With that in mind, we have created the MISBO Digital Educational Resources Coffee Talk sessions. Come meet our MISBO partners, learn about what they have to offer and how their products may be a great resource for your school. In these casual interactive sessions, you can learn more, ask questions, and meet our wonderful partners! 
MISBO Digital Educational Resources Portal 2.0
The MISBO Portal 2.0 is open for ordering!
Features of the MISBO Digital Educational Resources (DER) Portal 2.0
Single Sign-on
Buy Again Feature
Robust Search Features
What's New Section
Assign recipient for invoice
User friendly, intuitive, and fast!
---
watch the recorded tutorial
Contact Susan Flanagan, Consortium and Member Engagement Manager at susankimmel@misbo.com with any questions!