We did an activity with the MISBO board not too long ago that is borrowed from the world of improvisation. One of the facilitators, Dr. Ryan Welsh from Providence Day School in Charlotte, NC, has a Ph.D. in improv and learning, is a renowned design strategist, and is a nice guy. The acting and improv community refer to the activity we did as the "Yes, and" method: the first person makes a statement to establish the scene and subsequent participants accept the statement as true and continue the narrative somehow. You can read a short explanation from Tina Fey here. While the products can be beautiful or utterly absurd, the process of acceptance and co-developing a more robust scenario is useful training in listening, digesting, and incorporating an idea into a new reality. Here is a very short snippet of what we created:
On a vacation trip, we took an interesting Uber ride. And it was actually a red bus that we rode to look at the amazing artwork around the city and then got hungry. And the driver of the red bus took us out to eat affordable chili.
The "yes and" activity served as a guidepost for the way we wanted to treat each other's ideas. Nothing is too far-fetched and everything can be used as a springboard into new and exciting pathways. By starting with this activity, we created a norm that values and respects ideas from wherever they may come and we created an experience that was transformational rather than merely transactional. The "yes and" activity has been an excellent start to work collaboratively to clarify the goals and objectives for the association over the course of the next few years. I encourage you to try this activity in a department or staff meeting sometime and see how it helps you utilize your time together to create greater value.
You can read in this issue of The Pulse about some of the upcoming MISBO events – the On the Road later this month and the two summer events are going to knock your socks off. As a sample, the opening speaker for the Summer Summit: Talent Acquisition in June will speak about the corporate use of AI in talent acquisition and how that is being used to advance the work of finding the right people for their organization. What does this mean for us in independent schools? That is only one of the questions we will get to tackle!
There are also other BIG THINGS happening at MISBO that you should be aware of:
Your benefits and savings report is coming: the format has been overhauled to get you the information you need about the key ways MISBO helps you grow and get better at your job.
A new website and database is set to launch in May, which will greatly enhance your experience with MISBO.
Digital Educational Resources (DER) ordering opens April 16 – the test sites are open right now and our team continues to work to keep the prices low and the convenience of ordering from more than 35 vendors at one time a smooth experience.
We have launched the Auxiliary Programs Directors listserv – please send the name and email address of your folks who run your summer programs, after-school programs, facilities rentals, and other entrepreneurial endeavors. This listserv is in advance of an Auxiliary Programs Director conference in Atlanta coming in January 2019.
A member survey will launch this spring, the purpose of which is to help understand your needs and serve you and the independent school community better.
The book I am reading now has challenged some of my most basic assumptions about how numbers work. There is a fascinating introduction about the redesign of the Air Force fighter cockpit. Lieutenant Gilbert S. Daniels gathered measurements on 140 physical characteristics from over 4,000 Air Force pilots and averaged each of these characteristics to create an average pilot, which would be used to redesign the cockpit. Daniels was skeptical and took the ten measurements believed to be the most significant for design and compared the dimensions of the 4,000 pilots to those specifications. He allowed for a 30% margin within each characteristic and found that exactly zero pilots matched all ten. Daniels discovered that if you took just three of those characteristics, alarmingly only 3.5% of pilots matched. When trying to find the best fit for all, they found something that fit none. The military embraced the mindset of fitting the cockpit to the individual, rather than the Procrustean alternative and created individualized environments. Daniels published his findings in 1952.
Read the book if you have a chance and then please, go have some affordable chili.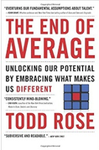 What I am reading now:
The End of Average, by Todd Rose