2019 MISBO FAll Conference
Hotel & Travel Information
Hotel Information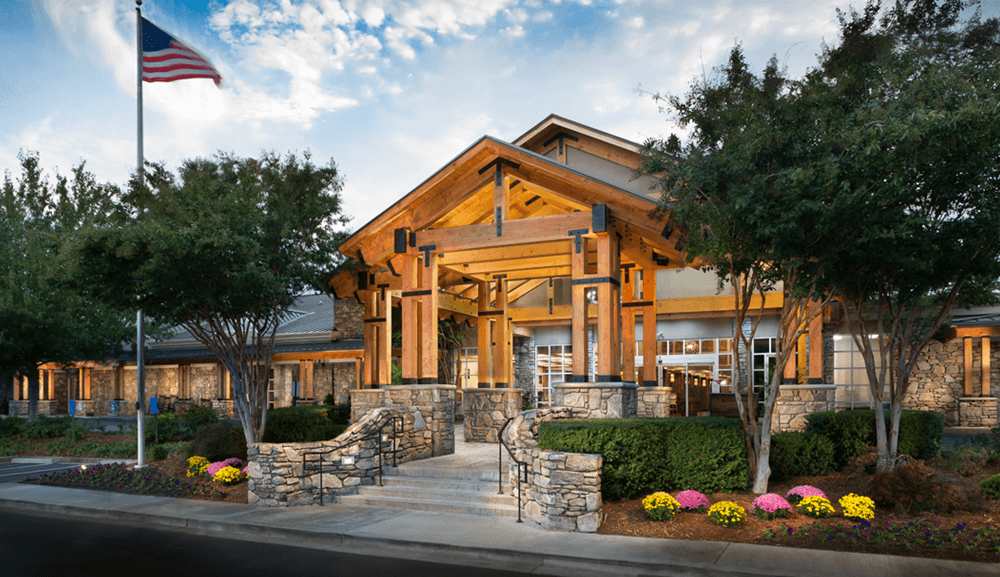 1 Resort Drive | Asheville, NC | 28806
---
Make a Reservation
The discounted room rate has now expired, but you can still make a reservation at the hotel. 
CLICK HERE or call 844-330-0296 to reserve your room.
Rooms reserved within the hotel block include:
Complimentary wireless internet
Complimentary self-parking
Room rate available 3 days before and after the conference, based on availability
---
Room Amenities:
Either 1 king bed with sleeper sofa, 1 queen bed, or 2 queen beds
Private balcony or patio
Complimentary high-speed wireless internet access
Cable/Satellite TV
Coffee maker

 

Mini-fridge
---
Hotel Amenities:
Hotel dining: on-site restaurant with patio and fire pit, in-room dining, lobby bar
Pet friendly ($25 + tax per night)
Roll-away beds ($12 + tax per night)
Shuttle to/from Asheville Regional Airport ($30 each way for first person, $5 for additional people)
Free shuttle to/from downtown Asheville (perk of the room block!)
Check in at 3 pm and check out at 11 am
Unique on-site amenities (gather your colleagues for some team building!):
The Asheville Racquet Club, located on the resort's property, offers its amenities to hotel guests, including:

Indoor saline pool

Fitness facility
Offered through the hotel:
Biltmore Ticket Special: buy a single ticket at the front desk, and enjoy estate access for TWO consecutive days!
---
Explore Asheville
WelcomeToAVL.com - Directory of restaurants, breweries, things to do, downtown parking, and more!
Area attractions - including the Biltmore Estate, the Blue Ridge Parkway, and the bustling downtown area
Restaurants - Asheville is a food lover's dream!
Beer scene - Asheville has

more breweries per capita than anywhere else in the U.S.!
---
Travel Resources
Served by American, Delta, United, and Allegiant

Offers flights to/from Atlanta, Charlotte, Ft. Lauderdale, Orlando, Palm Beach, Punta Gorda, St. Pete-Clearwater, Chicago, Newark, and LaGuardia

Located 15 miles from the hotel (about 20 minutes)
Ground transportation options

If using Uber or Lyft, find "App Ride Pick Up" location on this map

Hotel shuttle to/from Asheville Regional Airport ($30 each way for first person, $5 for additional people)
Driving Directions:
From South
Travel West on I-26
Follow signs for I-240 to Asheville
Merge into the left lane and take exit 3A - this will merge you onto Patton Ave
At the 2nd light make a right onto Regent Park Blvd (between Denny's and Pizza Hut)
The road will bear right and then turn left at Expo Center Drive by the "Adventure Center" sign - MISBO signage will also be present (before entering Sam's Club parking lot)
veer to the right, then turn left at Expo Center Drive by the 
Follow the road past the golf course, past the Expo Center to the main entrance and parking lot
From North
Travel South on Hwy 19/23 (also known as I-26 East)
Merge onto I-240 West
Stay in the right lane as you merge, marked as an "Exit Only" for Exit 3-B (labeled Westgate and Resort Dr)
Merge into the right lane as you pass the Westgate Shopping Center
The driveway is IMMEDIATELY as you round the curve to your right
Pass the Asheville Racquet club and drive up the hill to the main entrance and parking lot
From East
Travel West on I-40
Take exit 53-B onto I-240 West towards downtown Asheville
As you cross the "French Broad River Bridge" merge into the far right lane, marked as an "Exit Only" for Exit 3-B (labeled Westgate and Resort Dr)
Merge into the right lane as you pass the Westgate Shopping Center
The driveway is IMMEDIATELY as you round the curve to your right
Pass the Asheville Racquet club and drive up the hill to the main entrance and parking lot
From West
Travel East on I-40
Follow signs for I-240 East towards Asheville (left exit)
Merge into the left lane and take exit 3A - this will merge you onto Patton Ave
At the 2nd light make a right onto Regent Park Blvd (between Denny's and Pizza Hut)
The road will bear right and then turn left at Expo Center Drive by the "Adventure Center" sign - MISBO signage will also be present (before entering Sam's Club parking lot)
Follow the road past the golf course, past the Expo Center to the main entrance and parking lot