MISBO's Awesome COnsortium partners
MISBO consortium partner resource page

From the Desk of Jay Danielson
Director of the purchasing consortium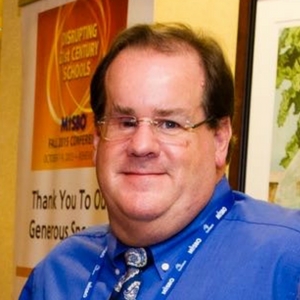 Hello everyone,
Well, here we are in September and, while not official for me, this is always the start of fall. It was a very busy summer here at MISBO and most of our schools are now back in session with many returning to the classrooms. I have mentioned this before, but there are still a lot of needs for COVID-19 related items and resources. If you have any information that we can communicate to our members, please be sure to get them to us as quickly as possible. Also, as mentioned last month we have been working on a new MISBO Partner Portal that in part will make it easier for you to enter the quarterly reports. We are excited about this new portal and expect to have it in place for reporting at the beginning of October. In the next couple of weeks, we will be sending out additional details on this process so be on the lookout!
In addition, we have also started a new program at MISBO to highlight our Consortium Partners and their corporate and social initiatives. Our mission is to "connect independent school professionals and deliver exceptional value to enrich learning." At MISBO, we feel it is important for our members to understand that the companies we partner with want to make a difference in this world. If you have not already done so, please complete the quick five-question survey to share your company's initiatives so we can share them with our schools.
I again want to thank you very much for the support you provide to MISBO and our member schools. Please keep safe!
Jay Danielson
Director of the Purchasing Consortium
---
NEW MISBO ADDRESS! PLEASE UPDATE YOUR SYSTEMS
1000 Whitlock Avenue, Suite 320 - 337
Marietta, Ga 30064
MISBO Sponsorship Opportunities
2020 MISBO Annual Conference - Now Virtual!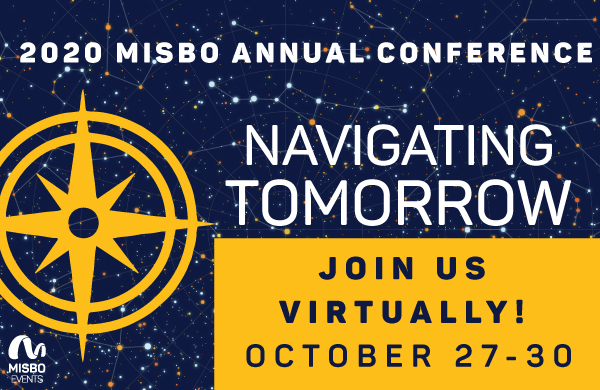 New and exciting opportunities now available!
Click to view sponsorship opportunities
Click here to become a sponsor!
MISBO Webinar opportunities
MISBO is now accepting presentation proposals for future webinar series.
For questions, dates and additional information please contact Dianne Sagaas or call 404.921.3812.
MISBO Consortium Hot Topics Blog
Guest Blogger opportunities
As part of MISBO's ongoing efforts to engage members and consortium partners, MISBO will be opening up our Purchasing Consortium blog space to our consortium partners to be Guest Bloggers. At MISBO we believe that our consortium partners are the best resources for our member schools, and we want to provide plenty of opportunities to get your knowledge and expertise in front of our members.
Please contact Susan Flanagan for more details or to get on the calendar!
NEW MISBO Member schools
Wilmington, DE
Monthly Contact Updates
** check your email from Team MISBO for the password or contact Susan Flanagan.
For MISBO Digital Resource Consortium Partners *NEW ACADEMIC LEADERSHIP Contacts!
For all MISBO Consortium Partners *NEW ACADEMIC LEADERSHIP Contacts!
MISBO Consortium Partner Logo
** check your email from Team MISBO for the password or contact Susan Flanagan.
Please use the logo below for promotional materials:
Marketing aND PROMOTIONAL INFORMATION
Please send any promotional and marketing information for distribution to our schools to Susan Flanagan.
Promotional materials can include, but are not limited to: videos, white papers, special/promotional flyers, new product/service offerings. Please see below for additional marketing specifications.
MISBO Marketing Specifications
I'm a new Consortium partner- now what?
---
Frequently Asked Questions
How can I submit a proposal for the MISBO Webinar Series?
MISBO is accepting presentation proposals for future series. Please contact Dianne Sagaas for dates and additional information. If you have questions regarding our webinar series, contact Dianne at 404.921.3812.
Can I host my own sales webinar?
In place of vendor-hosted webinars, MISBO has launched a new vendor-focused program called Meet & Greet. These MISBO-hosted online Zoom meetings target schools that meet specific profiles for your product or service. Please contact Jay or Susan to learn more and schedule yours!
Why aren't email addresses on the monthly contact spreadsheet?
At MISBO we have over 120 consortium partners and almost 3,000 school contacts. And, while we love our vendors, it would not be beneficial to our members or YOU if our school contacts received mass emails from all of our vendors. If you have specific targeted marketing for a group of schools, please contact Jay or Susan and we can help you figure out the best way to reach them.
Where can I find the MISBO Consortium Partner Logo to co-brand my promotional material?
Click here to view and download:
** contact Susan Flanagan for current password
Who To Contact