MISBO + IDEO PROJECT
POWERING INDEPENDENT SCHOOLS INTO THE FUTURE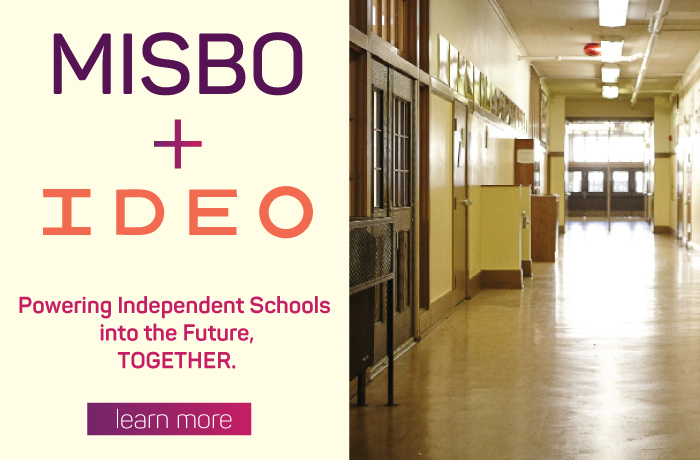 How might we imagine innovative and sustainable business models that allow independent schools to provide accessible, high-quality education?
MISBO is partnering with world-class global design and innovation consulting firm IDEO. IDEO helps organizations create positive impact through design. We chose IDEO because of their organization's "bias towards action" and their proven track record to help organizations move "from ideas to action".
Why IDEO?
We believe that a sustainable future for independent schools means rethinking not only financial models, but educational models. We've assembled a team of business experts with experience designing for systemic challenges in education to join independent school leaders in exploring new financial futures. Over the past 8 years, IDEO's Design for Learning studio has partnered with organizations to tackle complex challenges in the education sector. Throughout multiple engagements with independent schools, we've heard our partners express growing concern around balancing financial stability and a high quality of education.
Background:
The independent school industry has been challenged for years by shrinking enrollment and tuition rates increasing at alarming rates. The 2008-2009 recession exasperated these challenges. Financial aid funding on average has increased by about 50% as schools have used these resources to keep enrollment at higher levels.
For the vast majority of independent schools, the business model depends upon the donations annually from a small group of donors, most of whom are already paying full tuition. Most schools do not charge tuition at the cost to educate a student.
Add to this a fast-paced demand to innovate and change our approach to education, dramatic growth in charter schools, home-schooling, virtual education, and for-profit independent schools, and our schools must find new methods to operate to be both sustainable and relevant for the future.
For at least the past two decades many independent school associations and individual schools (with their boards) have addressed these issues. Some have made progress, but most are still operating in the same manner they have for decades.
Project Overview & Goals:
The goal of this project is to challenge the status quo and help independent schools take action toward a sustainable financial future. We will start with a cohort of 12 schools for the initial 7-week project timeline. Each school will work through the experimentation phase with the guidance of the IDEO consultants. This phase includes small experiments, or "hacks", for each school to experience moving towards change in small steps. We wish to use the data collected from this work to partner with IDEO to develop a "toolkit" which will be made available to all independent schools. We believe that we can be instrumental in leading change in our industry.
Our cohort of 12 independent schools will work collaboratively with a team from IDEO, but also individually to experiment with new ideas to view the business models at their schools. The list of schools below (including location, enrollment and Head of School) are committed to the project:
Click here to meet the IDEO Team!
See the work being done on Storify!