Back to Events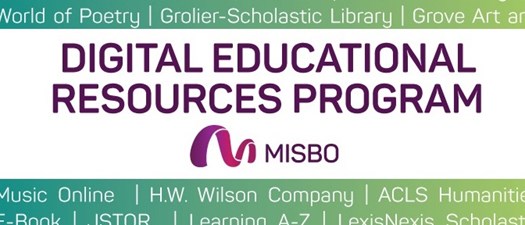 Webinar: DER Portal 2.0 training Session 1
Monday, April 12, 2021
Event Details
DER Portal 2.0 training
MISBO is excited to launch our new MISBO Digital Educational Resources Portal 2.0 ordering system! Join one of two available sessions to learn all about the new functions and features, and ask questions along the way. Susan Flanagan, Consortium and Member Engagement Manager, will walk you through everything you need to know, from logging in to submitting your cart! If you can't attend in person, a training video is available. Find it on the Librarian/Academic Leadership Resource Page and the MISBO Digital Educational Resources page.
Who should attend:
Librarians
Curriculum Directors
Academic Leaders
Technology Directors
Anyone who has previously ordered digital educational resources through MISBO
Anyone who purchase digital educational resources for your school and is interested in learning more about the MISBO Digital Educational Resources Program
This event is also available at 3:00 PM on April 15th. Click here to register for the 3:00 event on April 15th.
For More Information:
Susan Kimmel
Director of the Purchasing Consortium
MISBO
(404)920-8844