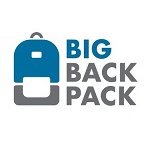 Big Back Pack focuses on helping schools be great places to work. We provide retained and contingency search for teachers and key staff. BBP helps you keep your people safe and your campus secure through safety and security assessment, critical faculty training (Child Abuse Prevention Education with Darkness to Light), and policy development. We also offer experienced human resources consulting in a variety of critical areas including total rewards planning and compliance.


How to Purchase?
To initiate any of their services, interested school leaders only need to contact the founding consultant and advocate, Steve Mandell, at steve@bigbackpack.org. He can also be called at 843.830.1658.


Who do I contact with Questions?
Steve Mandell, 843.830.1658 or email steve@bigbackpack.org.

https://bigbackpack.org/

Discount Information:
Teacher and Staff Placement
Big Back Pack provides private school teacher and staff placement services through a proactive, non-traditional approach. They help schools hire key people in critical areas.
Retained Leadership Search: Finance/Business Operations & Admissions
Contingency Search: Math, Science, World Language, ESL, & Technology.

10% Discount for MISBO Members
No Membership or Sign-Up Fee
Full Year Guarantee
Sliding Fee Schedule for Contingency Searches
Internship and Veterans Programs

School Safety and Security
Big Back Pack works with organizations to ensure that there is a plan in place to keep their community safe and secure. We offer consulting services and important staff training.

10% Discount for MISBO Members
Safety & Security Assessment
Child Abuse Prevention - Darkness to Light Stewards of Children Training
Child Protection Policy Development
Sexual Harassment Training

Human Resources Consulting
The core of our work is helping schools become great places to work. Our network of experts offers direct consulting services.

10% Discount for MISBO Members
Total Rewards Planning
Employee Engagement
Professional Growth Programs
Compliance Audits