Essential Elements to Successful Music Suites
The information below is provided by MISBO Vendor Wenger Corporation:
Essential Elements to Successful Music Suites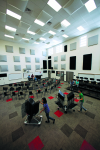 Acoustics must be the first consideration in a school music suite, because music is learned by critical listening. Musicians must be able to hear even the smallest variations in pitch, dynamics, tone color, articulation and balance.
Adequate cubic volume in the rehearsal room is crucial. Without it, the sound will overwhelm the room and likely endanger hearing. Ceilings should be 18-22 feet high, with a minimum of 1,800 square feet of floor space for choir and 2,500 for band/orchestra. Unlike poured concrete steps, portable risers do not reduce a room's total cubic volume. A flat floor in the rehearsal room also offers more flexibility for other activities.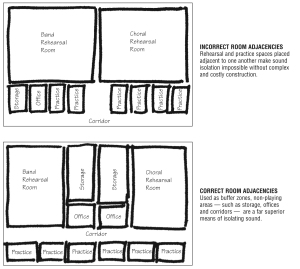 Proper sound isolation ensures that music rooms are acoustically separated from each other, and from the rest of the school. Classic mistakes include locating the music area next to the industrial area or gym, or building two rehearsal rooms sharing a common wall.
Acoustical treatments on the rehearsal room walls help control excessive loudness, while evenly distributing sound throughout the space. Carpet is not a good sound absorber – it does not absorb all sounds equally and can distort a group's true sound.
The floor plan and traffic flow in the music area impact the effectiveness of the space, increasing available time for learning and minimizing congestion. When you factor in the instruments, chairs, music stands, aisles and storage space, each band/orchestra student requires 30-35 square feet of floor space – twice the requirement of a non-music classroom.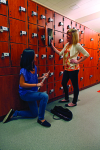 Music-related equipment – including instruments, uniforms and sheet music – represents more than a $300,000 investment at a typical high school. To protect these investments, specialized storage areas and compartments are necessary.
Addressing all these issues early in the planning process will help orchestrate beautiful results.
Click here to read a more detailed article on 'Planning Music Suites" by Denny Meyer.
Denny Meyer is acoustics project manager with the Wenger Corp. (www.wengercorp.com), a manufacturer of specialized equipment and furniture for music education and the performing arts. Wenger's free 50-page planning guide for secondary music facilities offers worksheets, guidelines and a list of other resources. To request a copy, contact Denny at denny.meyer@wengercorp.com.